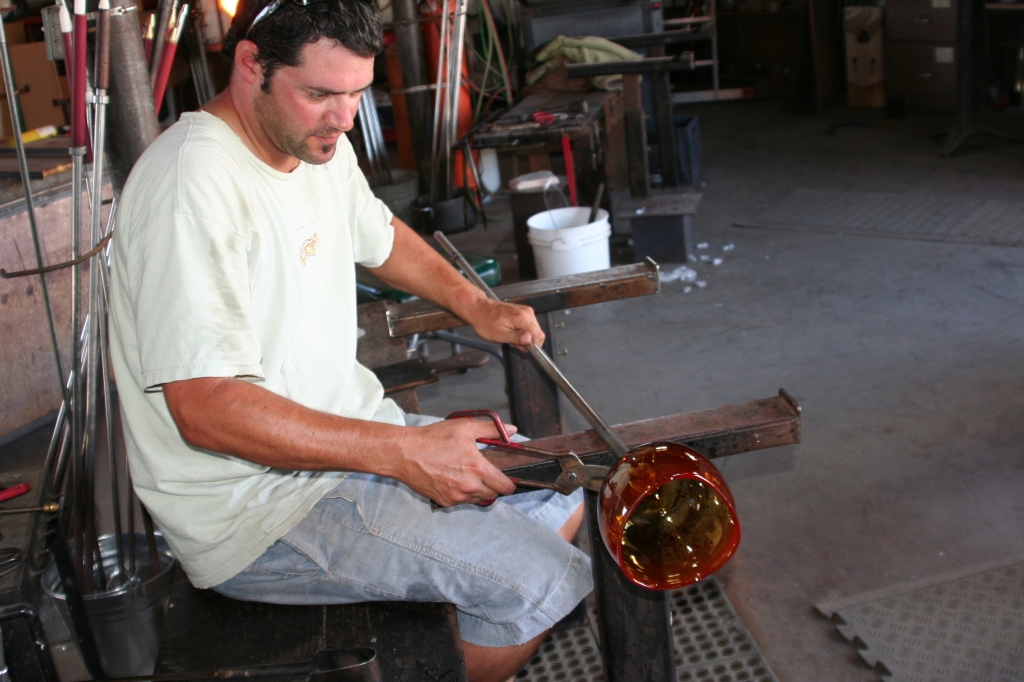 Jean Salatino and Steven Gandolfo are a husband and wife team working together to create unique hand-carved glass vessels. Their work explores form, texture, light, and color.
Steve blows the 'blanks' for the pieces, which can be up to an inch thick.
Jean's diamond-carving draws inspiration from nature. The forms are suggestive of leaves, seedpods, shells and flowers. Each piece is meticulously carved away, revealing the brilliance of the glass and celebrating its relationship to light.
Steve's sand-carved pieces, on the other hand, lean more toward the graphic, exploring two-dimensional designs on three-dimensional forms. With the transparency of the glass, the design is manipulated to overlay on itself several times.
Some of the blanks are designed specifically for the diamond-carving process. Jean carves these blanks using a series of abrasive diamond wheels of deminishing sizes.
She cuts deeply into the pieces, not just giving them surface texture, but changing the form. The carving creates facets and planes that catch and bend the light.
Creating a vessel can take up to forty hours to complete, and the finished piece often weighs less than half its original weight.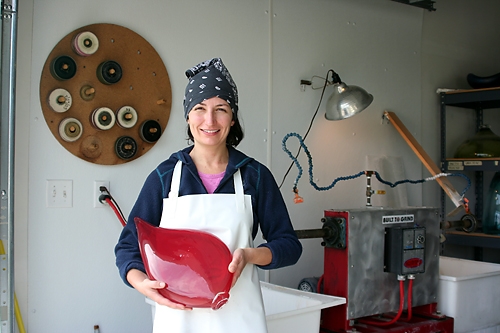 Other blanks are designed for the Sand Carving process. This entails making the blanks with layers of different colors. Then with careful and creative masking, some of the piece is covered with a thick rubber tape which is either cut or punched into shapes and patterns, while other areas are left exposed.
Then the piece is sand-carved to change the thickness of the unmasked sections, exposing different shades or color of glass while making intricit designs appear.
Sometimes this is done on both the inside and the outside of a vessel, while other times it is just done to one or the other. With Steve's background in sculpting, he tends to approach his work on a more substantial basis creating beautiful vessels which instead of being as thin, light, and fragile as possible, are more massive and solid.
Both Steve and Jean were awarded Bachelor of Fine Arts degrees from The California College of Arts and Crafts in Oakland, Ca. Jean has also worked and studied at the Pilchuck Glass School, and in 2001 received the prestigious Pilchuck Centerpiece Design Award, which is associated with their Annual Gala Auction.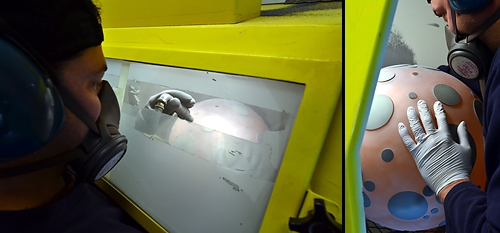 Steve and Jean have been working together for over twenty years.Their home and studio is located in Sonoma county where they live with their young daughter Sofia